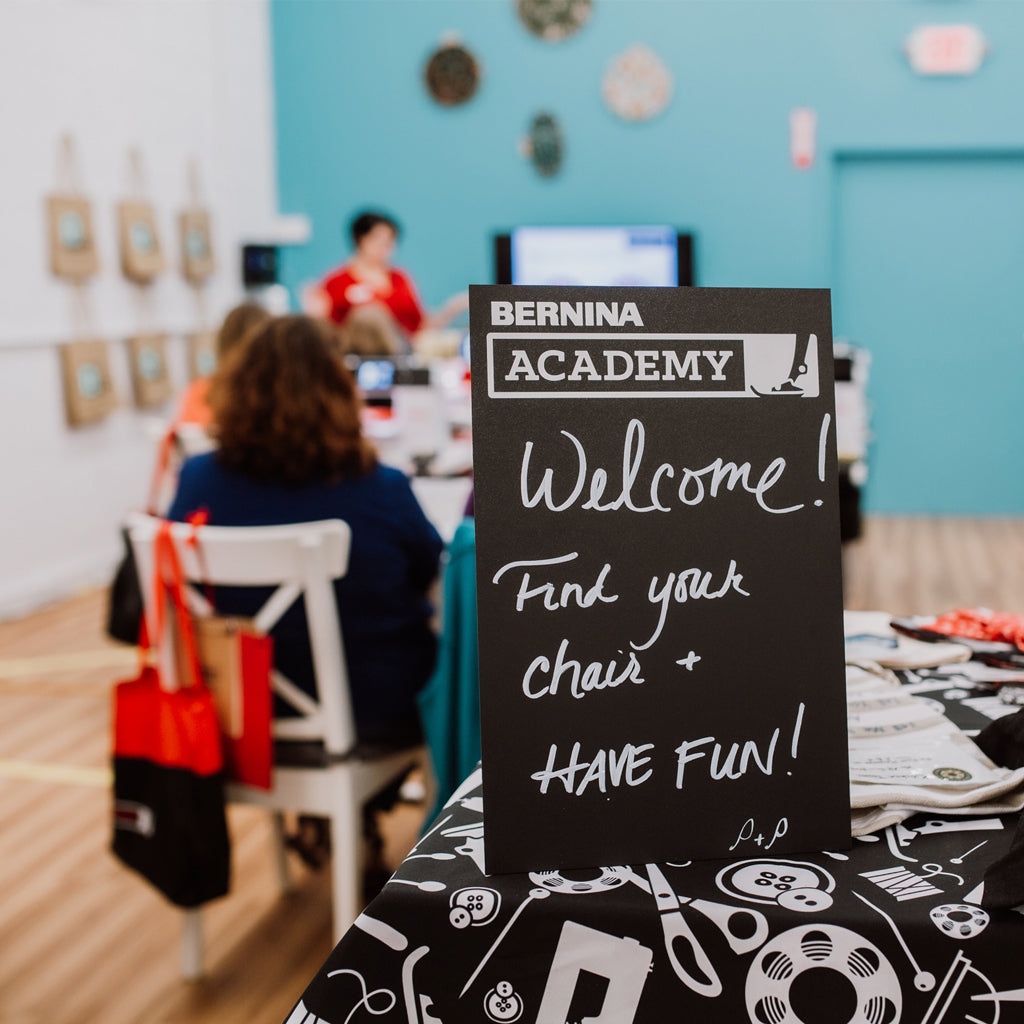 BERNINA Academy III: Finding Your Sewing Identity
We are so exited to have Kate Toney back here at our little shop to host another BERNINA Academy. This time, we will discover what your sewing identity is! Are you a perfectionist, an over-achiever or possibly a true creative? Come and join us to find out!
Kate will be here April 4th and 5th, 2020! Click here to register!
We will be sewing on the best machines that BERNINA has to offer:  the 880 Plus, the 790 Plus, and the 590.
We were able to pull Kate away from her busy schedule to answer a few questions about this exciting new BERNINA event.


1. First, for those who haven't met you or don't already follow you, tell us a bit about yourself!
 I'm Kate! I live in Orlando Florida and travel all year long teaching sewing, sergers, and embroidery. I am an Aurifil Artisan and create projects and content for Scissortail Stitches. I sew a little bit of everything and love helping others fall in love with new ways to be creative. When I'm not sewing I'm probably at Disney World with my boyfriend Brad or running my blog poolside while my step daughter, Jade, swims. 
2. Also, for those new to BERNINA Academy, can you tell us a bit more about it?
The BERNINA Academy focuses on the things that make a BERNINA, well, a BERNINA. Each student will learn how to sew various techniques. This course will cover different embroidery, quilting, and creative techniques, embellishments, and so much more, attracting all types of sewists from crafters to quilters, whether you are a new sewist or looking to expand your sewing skills and discover how to take your hobby to the next level. 

3. How is this Academy different than Tame that Technique?
Find Your Sewing Identity is so much fun! We are going to find your identity and speak to how you like to sew. This is my favorite BERNINA Academy so far because it's full of creative sewing options for all types of sewists! We get to learn 13 totally new techniques and have so many options for quilters this year. 
4. If I went to Academy II:  Tame that Technique, will I learn something new in this one? 
Yes! No techniques are repeated from last year. This year you get 13 new techniques to fall madly in love with. And I love that quilters can be much more involved this year! [There are] so many great creative options for quilters. 
5. Do you need to own a BERNINA for this class?
Nope! Most of our techniques are able to be adapted for any type of machine. Sewists with all types of machines are welcome! 
6. Is this class good for quilters, garment makers, or bag makers?
Yes! Haha, okay, I know it's not a yes or no question, but this class is for everyone. There are many quilting techniques, garment techniques, and creative techniques that anyone can use.  
7. When will I get to apply these techniques? 
All the time! If you're like me and LOVE finding new ways to push your creativity and try out new techniques on your next bag, quilt, garment, home dec, whatever, then you will use them ALL. THE. TIME. We have something for EVERYONE this year. 
8. What's your favorite technique?

Oh please don't make me choose....  I'm most excited to share needle felting with the machine and Paintworks. Those are some really impressive techniques with endless possibilities for incorporating them into projects of all types.
9. What machine do you sew on and why?
I sew on two different BERNINA Machines: B880 PLUS and a B790. I LOVE my B880 PLUS for the throat space, creative options (particularly on the embroidery side), and it's incredible precision; it's my favorite machine to have  in class.  My B790 is my baby. It was my first BERNINA and it's such an incredible work horse, so precise and so reliable. 
10. What is your favorite tool?
 I read food at first! Haha! You know I love talking yummy food. My favorite tool...does my embroidery module count? That's an accessory but mine is always on my machine! And with discovering my love for the Paintwork tool, I have even more options now for how to use my embroidery module in exciting ways. 
11. Why do you love BERNINA (the company and machines)?
I'm a total BERNINA addict, once I started working for a dealership and I saw how using impeccably-made tools elevated MY sewing (which was terrible at the time), I was hooked. BERNINA machines saved my first two quilt tops from being puckered, wavy messes. I love that BERNINAs are made to last for generations while also being leaders of innovation in the sewing industry. 
 12. Is Pintuck & Purl your favorite shop? 😉
OBVIOUSLY! I'm a Pintuck & Purl girl for life! 
Thanks, Kate!!
We can't wait to see this new Academy and to hang out with Kate all weekend again! If you haven't signed up, you should do so soon. If you have any other questions, please send us a message or stop by the shop!
Have you been to a BERNINA Academy before? Tell us below!